This year in the C2EC Corps de Ballet is striving to move us towards embodiment.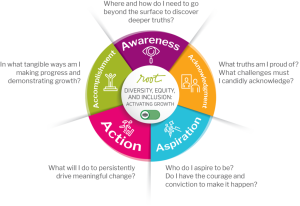 This means that we have a solid foundation IDEA and CC: theoretically, intellectually, and personally. We have more clarity on where were as individuals and employees (regardless of role) fit into the matrix of the work within out respective organizations including being accountability partners to our colleagues. We are now in the Action and Accomplishment spaces on the continuum. Often we learn best by doing – the act of "doing"  (like in dance) creates muscle and sense memory, lived experience stays in the body on a cellular level.  Likewise physically, mentally working to build something creates the new synapses.
In this module we learn about how the process of presenting Reframing the Narrative re-wired Kennedy Center Director of Dance Jane Raleigh's the way thinking – and the way the institution engaged internally, as well as with the surrounding community, and the dance community at large. From who was invited into the process and planning (and when), designing wraparound events and  onsite activations, to crafting PR pitches that resulted in a more nuanced and culturally sensitive coverage of the event, Reframing created a new lens through which the Kennedy Center sees its programming and its responsibility to the community  as the nations Theater.  How can the lessons and learnings from Reframing the Narrative inform some of the work you are doing in your organizations??
Subject Matter expert: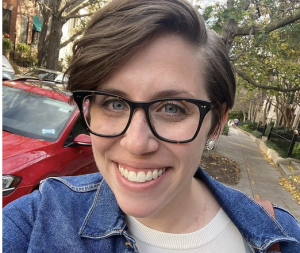 Jane Raleigh is the Director of Dance Programming at the John F. Kennedy Center for the Performing Arts.  In her role at the Kennedy Center, she curates and produces the Ballet and Contemporary Dance subscription series as well as a variety of dance performances on the Center's Millennium Stage and in the Center's REACH expansion spaces.  Locally, Jane serves on the Pola Nirenska Award jury, is a Board member for Dance Loft on 14, and is an active member of Dance Metro DC. Nationally, she a co-chair of the Presenters Council and an active member of Dance/USA. Jane also performs throughout the Washington region with a variety of project-based companies.
A Conversation With The Kennedy Center's Jane Raleigh
Reframing the Narrative, a week-long celebration featuring performances on the Kennedy Center Opera House stage. Along with black Ballet companies: Dance Theatre of Harlem, Ballethnic and Collage Dance Collective Curator Theresa Ruth Howard commissioned world renown choreographer Donald Byrd to work with a group of 11 international group of Black-identifying ballet dancers, to participate in a 2 week residency. The result was From Other Suns. MoBBallet founder Theresa Ruth Howard is in conversation with  Kennedy Center Dance Programming Director, and ally supreme Jane (Rabinovitz) Raleigh on how this historic program came to be.
Runtime: 58 minutes
COHORT MEETING REPLAY– (Not in both meetings we viewed the Reframing Documentary and discussed briefly so I suggest watching the mid-point of each session.)
ARTISTIC

ADDITIONAL RESOURCES